General Information of Jamaica map:
Jamaica is a country in North America
Official Name: Jamaica
Capital: Kingston
Population: 2,798,000
Languages: English
Geographic Region: America, Caribbean
Geographic Size (km sq): 10,991
Year of UN Membership: 1962
Year of Present State Formation: 1962
Current UN Representative: Courtenay Rattray
Jamaica Map
Jamaica Bordering Countries: none
Regional Maps:
Visit Jamaica on google map
More Jamaica Map
Jamaica PDF Map
Jamaica on video Map
Faq
Where is Jamaica?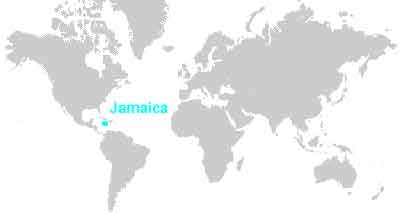 What are Jamaica major cities?
Montego Bay, Saint Ann's Bay, Ocho Rios, Negril, Savanna-la-Mar, Port Antonio, Unstead, Mandeville, Black River, Spanish Town, Kingston, Port Kaiser, Rocky Point.
What is the important place of Jamaica to visit
Caribbean Sea
What are the natural resources of Jamaica?
Jamaica has metal resources which include bauxite. Other resources include gypsum and limestone.
What are the natural hazards of Jamaica?
Jamaica has hurricanes, particularly from July to November.
What are Jamaica environmental issues?
The country of Jamaica has heavy deforestation. There is also pollution of the coastal waters due to industrial waste and other substances, as well as damage to the coral reefs.