Afghanistan Map – The official name of Afghanistan is the Islamic Republic of Afghanistan, a country in southern and Central Asia whose land is landlocked. Because of its population density, Afghanistan ranks 42nd in the world.
Afghanistan Map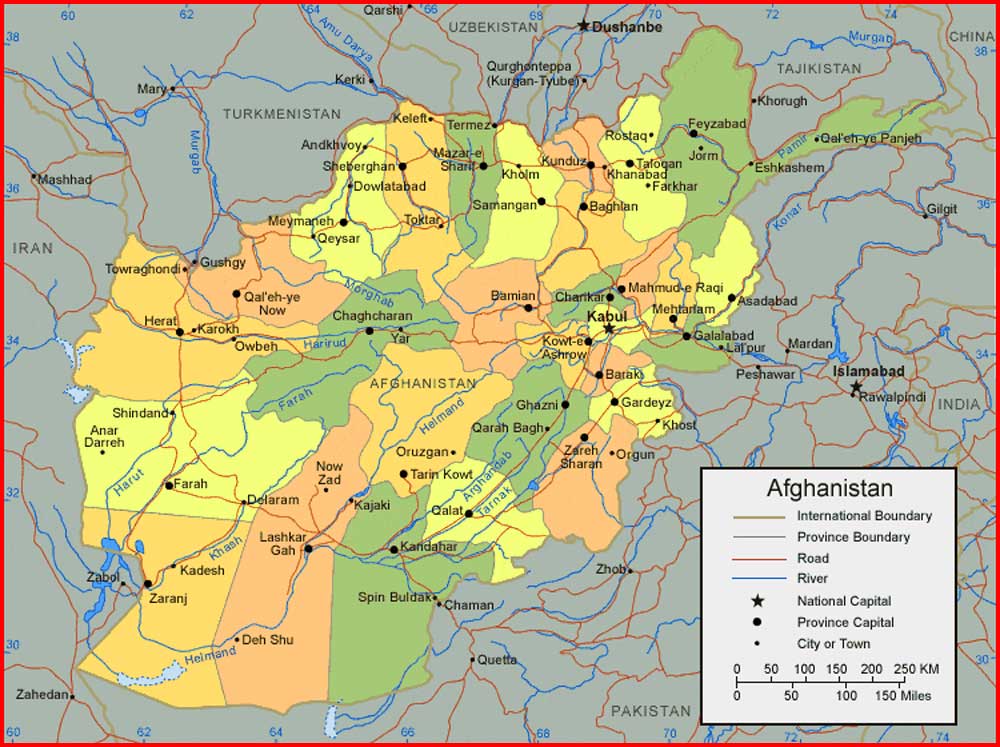 Afghanistan Bordering Countries
China
Tajikistan
Iran
Turkmenistan
Pakistan
Uzbekistan
Regional Maps
City and Region Map
Badakhshan, Badghis, Baghlan, Balkh, Bamyan, Daykundi, Farah, Faryab, Ghazni, Ghor, Hilmand, Hirat, Jawzjan, Kabul, Kandahar, Kapisa, Khost, Kunar, Kunduz, Laghman, Logar, Nangarhar, Nimroz, Nuristan, Paktika, Paktya, Panjshir, Parwan, Samangan, Sari Pul, Takhar, Uruzgan, Wardak, Zabul
---
Where is Afghanistan?
---
Black and White Map
---
Map blank white emboss
---
Map blank color emboss
---
Important Cities of Afghanistan
Anar Darreh, Andkhvoy, Asadabad, Baghlan, Balamorghab, Balkh, Barak, Chaghcharan, Chah-e Ab, Charikar, Deh Shu, Delaram, Dowlatabad, Eshkashem, Farah, Farkhar, Feyzabad, Galalabad, Gardeyz, Ghazni, Herat (Hirat), Jalalabad, Kabzol (Kabul), Kadesh, Kajaki, Kandahar, Karokh, Keleft, Kholm, Khost, Kowt-e Ashrow, Kunduz, Lashkar Gah, Mahmud-e Raqi, Mazar-e Sharif, Mehtarlam, Meymaneh, Now Zad, Orgun, Qaleh-ye Now, Qalat, Qarah Bagh, Rostaq, Samangan, Sheberghan, Shindand, Spin Buldak, Taloqan, Tarin Kowt, Termez, Toktar, Towraghondi, Zaranji, Zareh Sharan.
---
General Information of Afghanistan
Afghanistan is a country in South Asia
Official Name: Islamic Republic of Afghanistan, د افغانستان اسلامي جمهوریت
Capitol: Kabul
Population: 31,280,000
Languages: Pashto, Dari
Geographic Region: Asia, Southern Asia
Geographic Size (km sq): 652,230
Year of UN Membership: 1946
Year of Present State Formation: 1747
Current UN Representative: Zahir Tanin
Things to know
| | |
| --- | --- |
| Continent | Asia |
| Region | South Asia |
| | Central Asia |
| Coordinates | 33°00′N 65°00′E |
| Area | Ranked 42nd |
| • Total | 647,230 km2 (249,900 sq mi) |
| Coastline | 0 km (0 mi) |
| Borders | Pakistan 2,670 km (1,660 mi), |
| | Tajikistan 1,357 km (843 mi), |
| | Iran 921 km (572 mi), |
| | Turkmenistan 804 km (500 mi), |
| | Uzbekistan 144 km (89 mi), |
| | China 91 km (57 mi) |
| Highest point | Noshaq, 7,492 m (24,580 ft) |
| Lowest point | Amu Darya at Khamyab, 258 m (846 ft) |
| Longest river | Helmand River |
| Largest lake | Kajaki Dam |
| | Dahla Dam |
| | Naghlu Dam |
| | Band-e Amir |
| | Qargha |
| Climate | Arid to semiarid; cold winters and hot summers |
| Terrain | mostly low plateau with deserts, rangelands and a fertile plain in the southeast |
| Natural Resources | natural gas, petroleum, coal, copper, chromite, talc, barites, sulfur, lead, zinc, iron ore, salt, precious and semiprecious stone. |
| Natural Hazards | earthquakes, flooding, avalanches |
| Environmental Issues | limited fresh water, soil degradation, overgrazing, deforestation, desertification, air pollution, water pollution |
Visit Afghanistan on Google map