Informasi Somalia
Somalia adalah negara berbentuk Republik parlementer yang terletak di Afrika. Dari peta dunia dapat kita lihat batas wilayah Somalia meliputi: sebelah barat berbatasan dengan Djibouti, sebelah barat daya dengan Kenya, sebelah utara dengan Teluk Aden dan Yaman, sebelah timur dengan Samudra Hindia, dan sebelah barat dengan Ethiopia.
Peta Somalia di bawah ini meliputi peta wilayah, peta politik, dan peta letak jika dilihat dari peta dunia secara keseluruhan.
Peta wilayah Somalia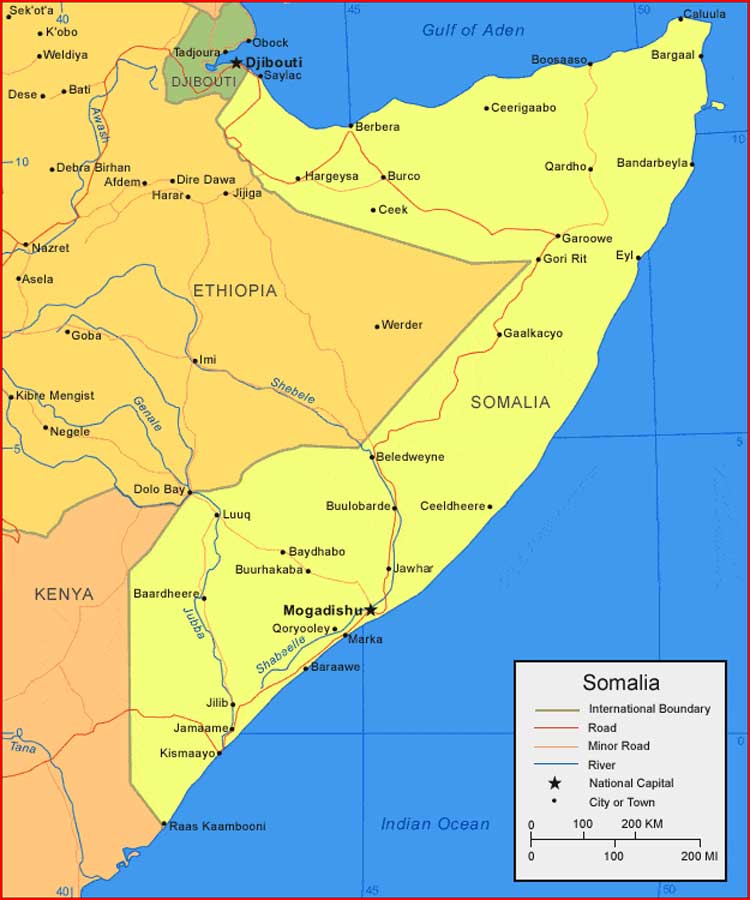 Negara yang berbatasan dengan Somalia
Peta Regional
Peta politik Somalia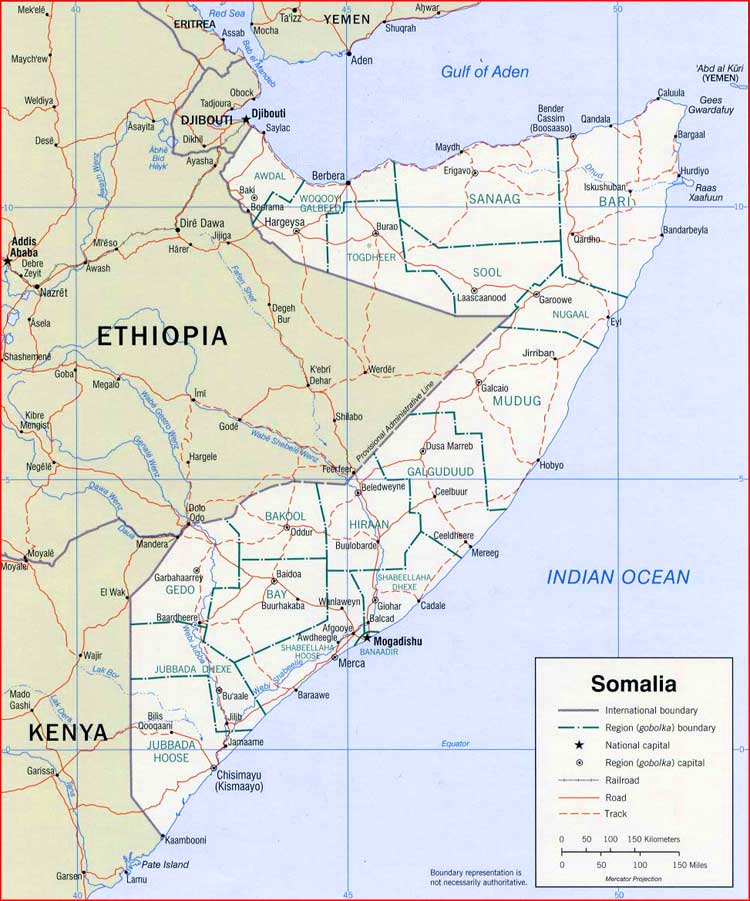 Peta letak Somalia
Bagi anda yang suka travelling dan ingin berwisata ke negara ini berikut informasi nama kota penting dan tempat wisata terkenal di Somalia.
Kota penting Somalia
Afgooye, Baardheere, Bandarbeyla, Baraawe, Bargaal, Baroowe, Baydhabo (Baidoa), Beledweyne, Berbera, Boosaaso, Burco, Buulobarde, Buurhakaba, Cadale, Caluula, Ceeidheere, Ceek, Ceerigaabo, Galach, Gala Rit, Hargeysa, Jamaame, Jawhar (Gioar), Jilib, Kidi Faani, Kismaayo (Chisimayu), Luuq, Mareer, Marka (Merca), Muqdisho (Mogadishu), Qardho, Qoryooley, Raas Kaambooni, Saacow, Saylac, dan Urkut Waajid.
Tempat wisata terkenal di Somalia
Saryan Museum, Shanghai Old City, Liido Beach Somalia, Central Market, MiG Jet, Livestock Market, Union mosque, Mogadishu Cathedral, Jazeera Beach, Bakara Market, The Tomb of the Unknown Soldier-Mogadishu, Gezira Beach, Dahabshiil Business Centre, Warsheekh Beach, Sheikh Beaches, black Hawk Down crash site museum, Govornors House Mogadishu, Turkish Embassy, Masjid al-Qiblatayn Mosque, Hadful Mosque, Independence Monument, Afgoye Orange Farms, Lag Badana-Bushbush National Park, Mogadishu Stadium, Maktabadda Ummadda/The National Library Somalia, National Museum of Somalia, Kismayo National Park, Guul Goals.
Terkait Somalia