Informasi Rumania
Rumania atau Romania adalah negara yang berbentuk Republik semi-presidensial, letaknya di Eropa Tengah dan Tenggara, di bagian utara Semenanjung Balkan dan berbatasan dengan Laut Hitam. Dari peta dunia dapat kita lihat batas wilayah negara Rumania meliputi: sebelah barat berbatasan dengan Hongaria dan Serbia, sebelah timur laut dengan Ukraina dan Republik Moldova, dan bagian selatan dengan Bulgaria.
Peta Rumania di bawah ini meliputi peta wilayah, peta politik, dan peta letak jika dilihat dari peta dunia secara keseluruhan.
Peta Politik Rumania
Negara-negara Berbatasan Rumania
Bulgaria, Hongaria, Moldova, Montenegro, Serbia, Ukraina
Peta Regional
Peta Letak Rumania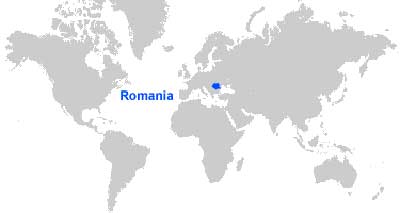 Nama kota penting di Romania
Alexandria, Arad, Bacau, Baia Mare, Birla, Bistrita, Botosani, Braila, Bukares (Buzau), Buzau, Cluj-Napoca, Constanta, Craiova, Deva, Drobeta-Turnu Severin, Galati, Giurgiu, Iasi, Mangalia, Media, Oltenita , Oradea, Petrosani, Piatra Neamt, Pitesti, Ploiesti, Resita, Satu Mare, Sebes, Sibiu, Slatina, Suceava, Timisoara, Tirgu Mures dan Zimnicea.
Tempat Wisata Terkenal di Rumania
Art & Crafts, Jalan Tol Transfagarasan, The Painted Monasteries of Bucovina, Transalpina, Citadel of Alba Iulia, Biara Sucevita, Old Town, Alun-alun Besar (Piata Mare), Sighisoara Historic Center, Moldovita Monastery, Kastil Peles, Barsana Monastery, Cheile Turzii – Turda Gorge, Peasant Fortified Church at Prejmer, Ceausescu Mansion, Biara Voronet, Brasov Historical Center, Alun-alun Unirii, Palace of Culture, Herastrau Park, Gereja Stavropoleos (Biserica Stravrapoleos), Viscri Fortified Church, Nicolae Romanescu Park, Memorial of the Victims of Communism and of the Resistance, Sarmizegetusa Regia, Timișoara Orthodox Cathedral, Humor Monastery, Monastery of the Three Holy Hierarchs, Bicaz Canyon, Parc Aventura Brasov.