Informasi Rusia
Rusia adalah sebuah negara berbentuk federasi, yang terletak di sebelah timur Eropa dan utara Asia. Wilayah sangat luas mencapai 17.125.200 km², sehingga Rusia merupakan negara terluas di dunia. Dilihat dari peta dunia, batas wilayah Rusia meliputi: sebelah utara berbatasan dengan Samudra Arktik, Azerbaijan, Cina, Georgia, Kazakhstan, Korea Utara, Lithuania, Mongolia, dan Polandia, sebelah barat dengan Belarus, Estonia, Latvia, dan Ukraina, dan sebelah utara dengan Norwegia dan Finlandia.
Peta Rusia di bawah ini meliputi peta wilayah, peta politik, dan peta letak jika dilihat dari peta dunia secara keseluruhan.
Peta Politik Rusia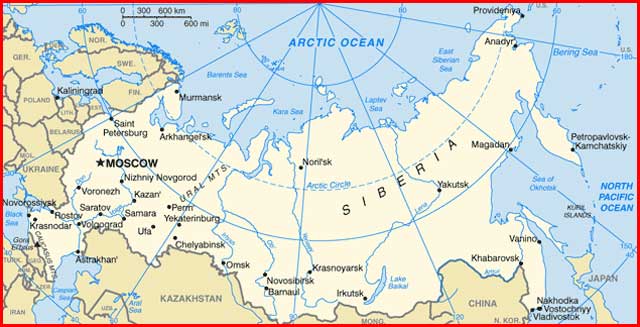 Negara yang berbatasan dengan Rusia
Azerbaijan, Belarus, China, Estonia, Finlandia, Georgia, Kazakhstan, Korea Utara, Latvia, Lithuania, Mongolia, Norwegia, Polandia, Ukraina
Peta Regional
Peta Letak Rusia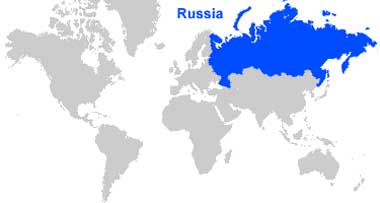 Nama kota terkenal di Rusia
Aldan, Angarsk, Apatity, Astrakhan, Balagansk, Baley, Barnaul, Bratsk, Chelyabinsk, Cherskiy, Chita, Irkutsk, Kazan', Klyuchi, Kolpashevo, Kostroma, Kozhva, Krasnoyarsk, Kurgan, Kyzyl, Mogocha, Moskva (Moscow), Nadym, Nizhniy Novgorod, Novorossiysk, Novosibirsk, Okha, Omsk, Orenburg, Oufa, Penza, Perm, Petrozavodsk, Pevek, Ryazan, Salekhard, Samara, Sankt-Peterburg, Serov, Smolensk, Sokol, St. Petersburg, Stavropol, Strezhevoy, Surgut, Tambov, Tara, Tarko-Sale, Tiksi, Tomsk, Tulun, Ulan Ude, Ust'-Kamchatsk, Ust'Kut, Vladivostok, Vologda, Volograd (Stalingrad), Vorkuta, Yagodnoye, Yaroslavl, Yekaterinburg, Yuzhno-Sakhalinsk and Zeya.
Tempat Wisata Terkenal di Rusia
Katedral St. Basil (Pokrovsky Sobor), Gereja Penyelamat Kami Menumpahkan Darah, Istana dan Taman Peterhof, Alun-alun Merah (Krasnaya ploshchad), Museum State Hermitage dan Istana Musim Dingin, Moscow Metro, The Eternal Flame, Borodins' Blacksmith Shop, Museum of Labor and Fighting Glory, Human Puppet Theater, Kolomenskiy Patefon Museum, Limpopo Zoo, Alexander Svirsky Monastery, Ascension Cathedral, Hall of Military Glory, Transfiguration monastery, Church of The Holy Virgin, Stolby National Park, Kislovodsk National Park, Cathedral of the Assumption (Uspensky Sobor), Dom Gorodskogo Golovy Botnikova Museum, Church of the Intercession of the Holy Virgin, Victory Memorial, Slava Zaitsev's Art Gallery and Studio, Tula State Museum of Weapons, 'The Motherland Calls' Sculpture, Provincial ARTgallery-M, Galileo Park, Museum "Tatarskaya Sloboda", Millennium of Russia.